connect

|

share

|

support
Mission-driven startup
We are Yale alumni who come from diverse backgrounds, including being 1st in our families or from underserved backgrounds to graduate from college or graduate school. We connect with each other to share our stories and have a positive impact on the lives of Yale students and alumni.
We celebrate diversity
1stGenYale is inclusive of all diversity: race, ethnicity, culture, gender, nationality, disability, age, sexual orientation, religion, socioeconomic status, and family hardships.
How can alumni help?
❖ Organize career workshops and panel discussions on relevant topics to 1st Gen Alumni.
❖ Host an alumni gathering at your local Yale Club.
❖ Sponsor a Yale Day of Service site in your local community.
❖ Connect with the Office of Career Strategy to offer summer internships or full-time employment for Yale students.
❖ Connect with fellow alumni and students in Cross Campus.
❖ Share your life & career experiences with students through 1stGenYale networking programs held twice a year on campus.
❖ We are looking for alumni leaders to help us grow into a sustainable organization.
❖ Your ideas? Email us.
alumni

|

a resource for students
Help first-generation & low-income students via The Community Initiative at Yale
We are thrilled that an office, The Community Initiative at Yale has been established and meaningful programs are being developed to help our students make the most of their experience on campus and beyond.
Financial support
Mentoring opportunity
Working with the YAA, we are actively encouraging all alumni give back by volunteering to be mentors for current students through the Alumni and Students Pilot Mentoring Program. Both alumni and students can indicate 1st gen background if interested. ► Contact Stephen Blum '74.
Sharing our stories
By sharing similar experiences, alumni can provide valuable support to current students. Arriving at Yale, many of us 1st gen underserved alumni felt that we lacked informational, familial and financial support — causing us to feel isolated and alone. By telling our stories as former students and now professionals in diverse careers, we help students to know that they are not alone. We believe in them. We want them to know that they belong. We all belong to the Yale family. ► Our events, partnerships and initiatives will give you the many opportunities for sharing your story.  
First Year Scholars
|

July

Working in partnership with the Office of Campus Life, our program invites alumni to spend the day with incoming Yale College students in the annual First-year Scholars program (FSY).  Students meet alumni, many for the first time, and learn how to navigate Yale and beyond. We celebrate our new friendships with a lemonade and cookie reception.
YAA Assembly
|

November

Alumni & students get-togethers are held during the annual YAA Assembly in mid-November. The 2016 and 2017 events were co-sponsored with the (YAA) Alumni Task Force on Diversity, Equity, and Inclusion. Discussions include career experiences, academic courses extracurricular activities and everything in between!
Yale Day of Service
|

May & throughout the year

Partnership and promotion of sites with Yale Day of Service.
Webinars
1stGenYale creates and partners in webinars.
Live Events
1stGenYale creates and partners in live events in various locations.
Blazing the Trail: Being the First
Saturday, April 14, 2018


Inaugural 1stGenYale Alumni Conference
Our alumni team held the inaugural 1stGenYale conference on campus. This was the first time that we have come together as a new alumni shared identity & interest group, celebrating who we are, being first! Alumni from diverse cultural, ethnic, and racial backgrounds from all schools and years connected with each other, shared our stories, and developed meaningful friendships to continue well after the conference is over.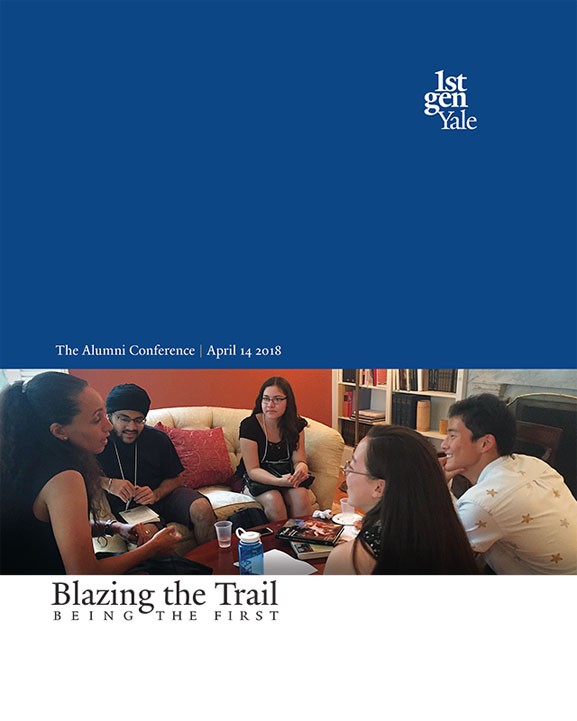 history   

|

  press   

|

   contact
Annual Report
Awards
History